Of all the places in our house to decorate, I have struggled with our entryway.  It is a bit small, dark, and doesn't get enough light for most plants to survive (thank god for great faux plants!). I feel like I am ALWAYS looking at ways to improve our entryway, and eyeballing entryways that I envy for their light, feel and space.
Since an entryway is the first impression someone has when they walk into your home, you want it to be a good starting point for the vibe of the rest of the house; however, it can also be a place to do something fun and bold, and take a little risk since it tends to be a smaller space and generally more contained. This can be done by using fun patterns, wallpaper, tile, or a bold color on the walls or ceiling. It can really be that simple? Paint a wall? Sure!
In my entryway, I felt I couldn't put too much pattern or color on the walls because it opens up into our formal living room which is a big white space, and they are not very separated. The edges of the walls all bleed together.
One thing I felt the space did need was some kind of a mirror to make it seem bigger, and I also wanted something a bit decorative to distract from the ugly boring wall, oddly placed light switch, and closet door. I found a great mirror at Overstock, and although I love the mirror…..I do wish it was slightly bigger……
I couldn't find a console table that I loved, was the right size, and wasn't a million dollars. Since we tend to take our shoes off in the house, I felt a bench would be more conducive for people to use than a table. So I searched for a good bench and settled on one from Target.
I gave my try at a few real plants in the corner, but they all started to die since the space hardly gets any natural light, so I settled on this pretty decent faux palm. (also from Target)
Overall, the entryway is still a work in progress, it is the one space I feel I can update as colors change or as patterns change, but with limited space, this works pretty well!
In my quest to always improve the entryway, I cam across a number of great ideas to incorporate pattern and color.
Here are a few bold entryways done with wallpaper that I have serious envy over: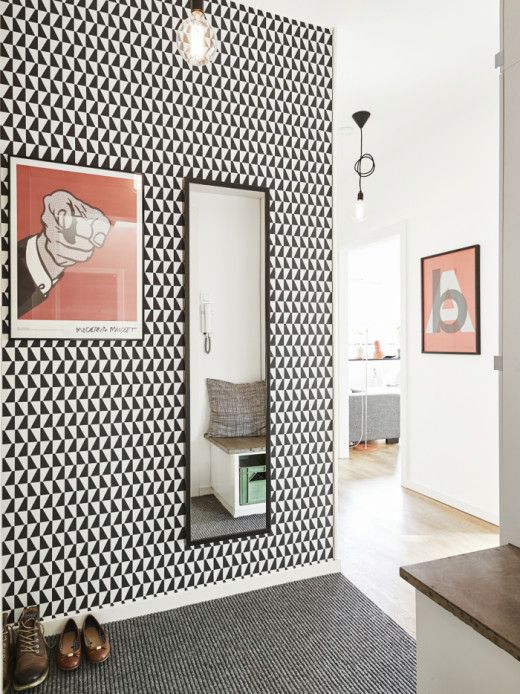 Source: Rue Magazine
Source: Pierce and Ward (I die over this one!)
But sometimes, just a little color will make a world of difference, like these beauties below:
Source: Tiny House Giant Life (I just love this entry!)
Source: Paper & Stitch
Source: The Design Files
Source: pinterest
If you aren't into the bold colors or patterned wallpaper, sometimes the best method is to make sure you have good composition in your space. Here are a few great, yet simple entryways that still make a bold statement.
Source: A Beautiful Mess
Source: Pinterest
Source: Sarah Sherman Samuel
And lastly, if you want to really do something wild and crazy, ("hey you guuuuyys!"), you can go with making your floor or ceiling become the interest in the entry. Here are a few I think have that magic touch.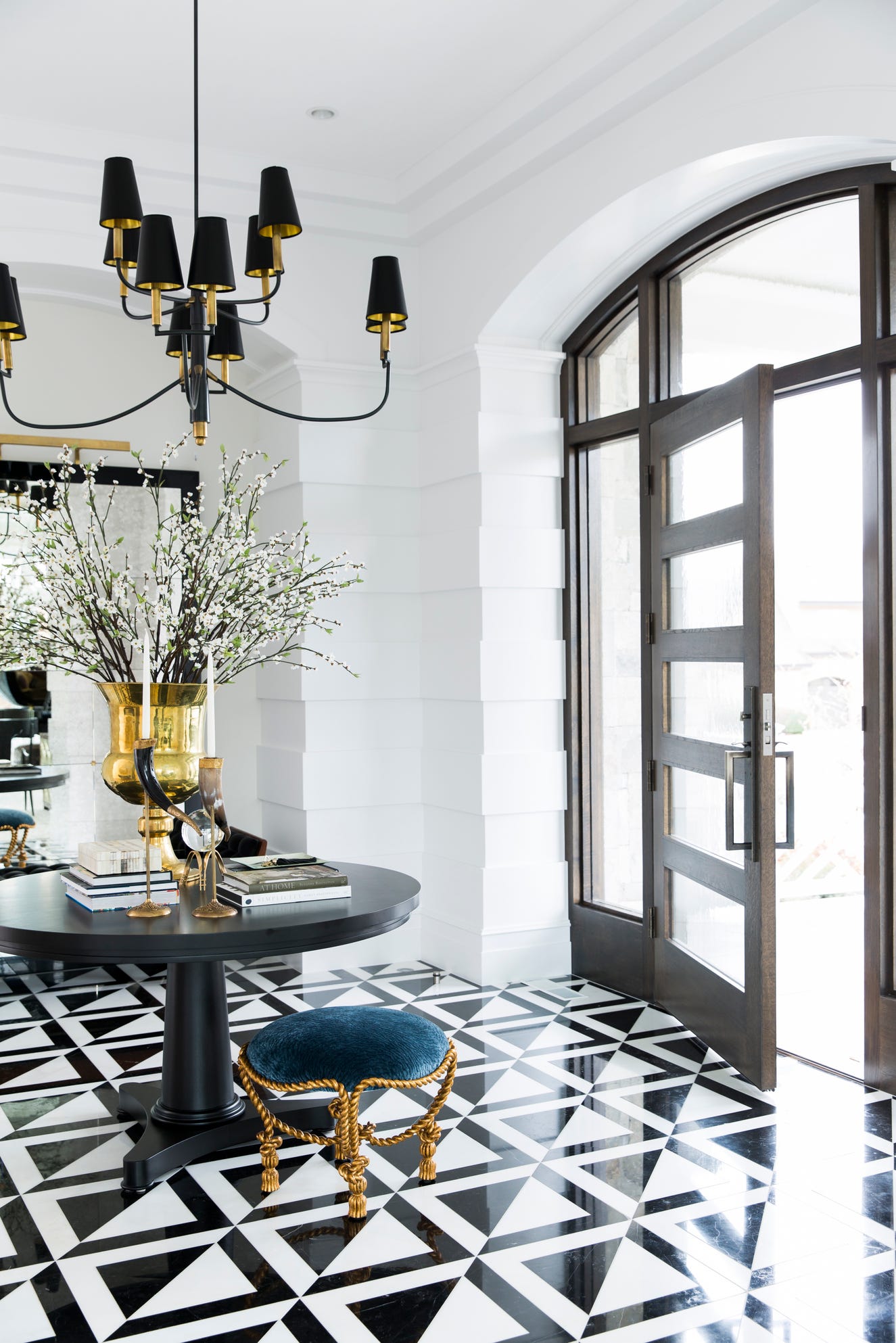 Source: Elle Decor
Source: 1st Option
Source: Pinterest
Source: Apartment Therapy
That last image puts the finishing touches on what I say is an all around beautiful entry. The textures, patterns, and colors are amazing, and I would die to have an entry large enough to withstand some color! Maybe one day…..I might just have to test some out.
xx
Ash