Well, I clearly haven't been posting every week – it's amazing how difficult it is to find time to post! Between working, kids and general house stuff, I basically only find time after 10pm to get on the computer, and at that point, you can bet I have fallen asleep on the couch. SO, since I am on vacation this week, I figured I could find SOME time in between biking, rafting, swimming and drinking beer, to talk about some of my favorite kitchens.
If you follow me on Instagram, you would know that I love a kitchen with some color. As beautiful and clean a white kitchen can be, I find them a bit boring. The kitchen is where you spend lots of time in, where people gather, and where you can invest lots of money in to make your "dream kitchen". In my opinion, (and this is only my opinion, so don't be offended) white kitchens are too sterile, and eventually feel tired.
There are so many ways to add color to a kitchen, even if you have already invested in an all white kitchen.
Here are some kitchens that I think utilize color in the best way!
Here is a perfect example of a white kitchen that adds just a bit of color to break up the sterile white. I LOVE this idea, and of course the color used! Anna Bode did a great job making this white kitchen have some warmth to it.
Source : Anna Bode
I recently posted this kitchen on my instagram feed, and got the most likes for any post so far…..clearly this kitchen by Joanna and Chip Gaines is a winner with many people. It's amazing to me that they can't seem to do anything wrong! The color on these cabinets with the beautiful marble counter tops is a perfect pairing. Those benches really pull all the warmth together.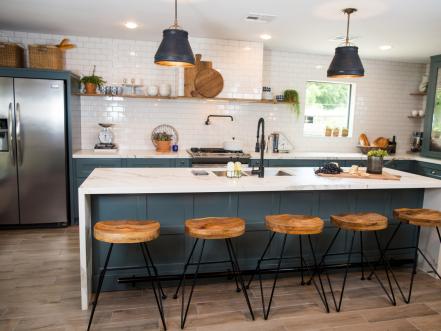 Source: HGTV
One of my favorite kitchen sources for inspiration and color is DeVol Kitchens. They too can't do anything wrong. Their kitchens are HANDS DOWN the most amazing kitchens I have ever seen. They have such a range of designs and clearly have some impressive designers with great ideas. I love the next two images where they've created these bright, beautiful spaces while incorporating such dark and dramatic colors.
Source: DeVol Kitchens
Source: DeVol Kitchens
Amber Interiors has this amazing ability to create that cool, California vibe in all her spaces. This kitchen below is one that I have seen blogged many times, which I think is due to Amber's amazing color use. The color on the cabinets paired with the rug and the marble counter tops is a perfect example of having a bright white kitchen while still bringing in some color.
Source: Amber Interiors
The next two kitchens show how adding some interesting tile to the kitchen floor can be the color focal point. One of my all time favorite kitchens and spaces is this one below. I love how the tile ties back in with everything, and how bright the kitchen still feels. The brass accents also pull it all together.
Source: 100layercake
Source: Jhinteriordesign.com
Studio McGee as perfected the use of color in the kitchens they do. I am pretty sure they feel my feels about needing just a little color in the kitchen. This one is a perfect example of having an almost totally white kitchen but just a POP of color on that island. It makes for a nice breakup of what is pretty much an all white kitchen.
Source: Studio McGee
Sarah Sherman Samuel combined this beautiful sage cabinet color with her all white kitchen that I just love. The lower cabinets break up the monotony of all white, and add warmth to the room. And who doesn't love that gold hardware!
Source: Sarah Sherman Samuel
If you are not a white kitchen lover to begin with, then here is a great combo with wood cabinets. This room is soooo beautiful! That Marble back splash is mesmerizing!
Source: Pinterest
So as you can see, there are so many ways to tie in some color to a kitchen and breakup that all white sterile feeling. It can be as easy as painting your island, walls, or lower cabinets, adding some colorful chairs, putting colorful tile on the floor or back splash, or minimally adding some interesting artwork! I know it's not in everyone's budget to redo their kitchen, but a little paint can definitely go a long way!
Don't forget to follow my Pinterest board for more interesting kitchen ideas!
xx
Ash